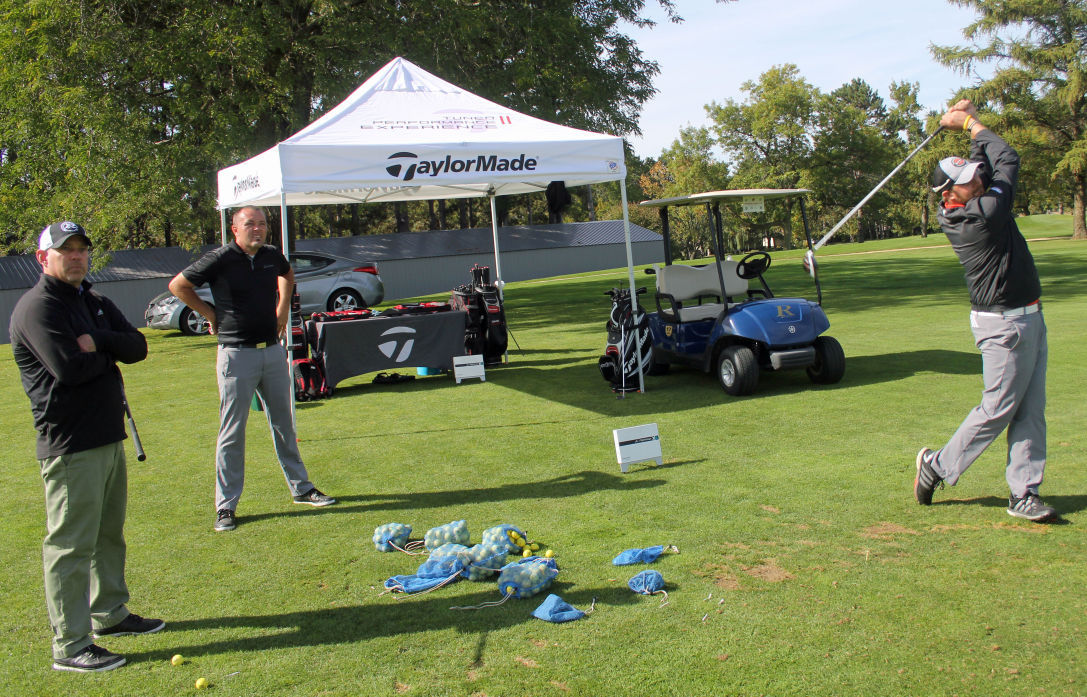 At the turn of the century golf seemed to be positioning itself to take over hockey as America's fourth "major" sport – behind football, baseball and basketball.
The 1990s brought an unprecedented boom in golf course construction at the same time Tiger Woods exploded onto the scene – which massively fueled television ratings of professional golf. By 2007 one survey estimated golf enthusiasts spent nearly $75 billion on the sport. New course construction boomed in the 1990s and early 2000s to the point of over-supply.
Golflink.com
noted "the emergence of Tiger Woods boosted the game's popularity, turning it into a hip pastime for many who never would have considered playing it before."
With the economy flying high and a younger generation wanting to "be like Tiger," golf seemed to be shedding its image among some as an elitist sport reserved mainly for sales people closing business deals by the 18th tee.
The great decline
And then the movement nationally suddenly sliced a shot into a St. Andrews-style bunker. Within the course of less than 24 months from 2007 to 2009, Tiger's career and the economy came to a crashing halt.
"During the '90s we built just a ton of golf courses to meet demand," said Baraboo Country Club golf pro Clint Hutchens. "They kind of overdid it. And now all of us are in this tough environment as far as trying to get every last dollar we can."
According to the National Golf Foundation, there were 30.6 million golfers in 2003 and by 2012 the number had dipped to 25.3 million – a 17 percent drop. The foundation also reported a peak number of 16,052 golf courses in the U.S. in 2005 – slipping to 15,516 by 2013. The organization also reported only 14 course openings in 2013 while 157 closed.
The demise of Woods' career has diminished television ratings and perhaps his influence on inspiring others to play the game. During his historic winning run he drew viewers to their televisions that had never picked up a golf club. Everyone wanted to know what Tiger would do next.
The golf industry cannot blame one athlete's career slide on the downturn of the entire sport. Even professional golfers acknowledge it is one of the hardest games ever invented to master – one contributing factor that may partially explain why only about 5 percent to 7 percent of Americans play. Over the last six to seven years, time and the expense of the game have been the industry's nemesis with regard to maintaining a current client base and gaining new, younger players.
Jack Nicklaus told CNN in an interview in January, "I'd like to play a game that can take place in three hours. I'd quite like to play a game that I can get some reasonable gratification out of very quickly – and something that is not going to cost me an arm and a leg."
Golf course managers traditionally expected a group of golfers to complete 18 holes of play in four hours. Over the years, that standard has extended to four and one-half hours. Add in travel and warm-up time and an 18-hole round of golf now takes almost six hours of one's day.
The late 1990s and early 2000s Tiger Woods-influenced-golf boom may have contributed to the problem of lengthening a round of golf. "I feel like we had a huge influx of golfers who grew up not playing the game," Hutchens said. "They were never taught golf course etiquette and ways to play faster."
Dealing with adversity
Today's world is busier and many recreational players have decided they cannot invest the amount of time they did 15 or 20 years ago playing the sport.
"We've definitely seen a shift from 18-hole play to more nine-hole play," said Hutchens. "More and more people don't have the time to devote six hours of their day to a round of golf, but they can devote three hours."
Golf course accountants are dealing with the consequences of patrons cutting their business in half. In addition, with a low percentage of Americans playing the sport, golf courses have a limited market for promotions.
Hutchens said his club has lost full members – who are offered unlimited golf – as they have opted for daily fee golf, or pay as you go.
Declining revenue also has been an issue at the Portage Country Club where club pro Mark Braska said the course has succumbed to players' need to save money by offering various specials such as a "Monday Super Golf Special" and twilight golf.
"Not too many people full-boat anymore," he said. "They're on some kind of a special."
While Braska acknowledges specials have kept a steady flow of patrons coming through his club and others, at some point the bottom line must be met to offset the high price of maintaining a golf course. "We're just trying to break even if we can," he said.
Benefiting from the Dells
Despite the difficulties, there remains a sense of optimism among the course managers and pros in south central Wisconsin. While Hutchens also acknowledged Baraboo Country Club's goal at this point is to break even, he was enthusiastic about how many of the courses in Sauk, Columbia and Juneau counties feed off of each other and work together.
"Between us and Reedsburg and Trappers and Wild Rock, we're kind of spoiled in this area," Hutchens said. "We all benefit from the Dells. When the Dells is busy, we get overflow play."
He also noted how he and other pros in the area, like Bob Feller at the Reedsburg Country Club, work together exchanging ideas and referring players to other courses when one becomes full.
Feller shared Hutchens' enthusiasm and optimism for the future of the sport.
Many Wisconsin Dells-area golf courses have been shielded from the national downturn in golf.
"Nationally I think it's down as a whole but we're certainly doing very well," Feller said. "In the Dells area golf has been doing very well. If anything, it's on the up-rise over the last three years. Our revenue has steadily increased over the last 10 (years) as far as cart fees and greens fees."
Resort courses like Trappers Turn and Wild Rock not only are highly ranked by various golf industry associations, they also benefit from being located in one of the biggest tourist destinations in the state.
Scott Mowatt, tournament coordinator at Wild Rock Golf Club in Lake Delton, said his club continues to enjoy a steady flow of customers.
"This is one of the busiest years we've ever had," he said.
Mowatt said the combination of being a resort course and offering high-quality playing facilities are two key ingredients to success.
Seeing the future
The business models of many industries lean on generating future revenue by creating demand from younger generations. The golf industry is no exception but certainly may have some road blocks ahead.
Many course managers agree that creating an interest in golf for kids under 18 is a key component for the success of a course's future. Those kids eventually will have expendable income and in turn teach the sport to their children.
"You're trying to get the younger generation hooked on the game and they're your next members," said Braska, noting that also creates a trickle-down effect. "The parents are so excited their kids are not sitting in the house playing video games all day and they'll end up buying a family membership."
Golf – while popular with many kids in grade and middle school – seems to lose the battle to more popular high school sports. Hutchens spoke of a "really healthy junior program" at the Baraboo Country Club with 60 kids this year, but said "we lose the kids once they get into their high school years. I lose them when they're playing baseball, tennis and these other sports because of how involved (with golf) you have to be to be competitive. The kids just don't have the time for it."
Mauston High School golf coach and math teacher Kurt Andreasen not only had the problem Hutchens referred to but also has to contend with economics. "We don't have a lot of the golf families. There doesn't seem to be that love of the game and there's also the poverty. Roughly 50 percent of our students qualify for free or reduced meals."
Andreasen decided to take matters into his own hands and made it his mission to inspire kids simply by talking about golf and showing his students his passion for the game. "I'm doing everything as a coach I can to find other ways."
His efforts also included requesting grants from the Wisconsin State Golf Association – three of which have been granted thus far. He also reaped generous golf equipment donations from community members. Andreasen was proud to note that participation on the high school team has risen from five members seven years ago when he took over as coach to an average of 18.
Chris Johnson, club pro at Lake Wisconsin Country Club outside of Prairie du Sac, said he also contends with losing youth golfers to more popular sports like football and basketball in high school. Despite losing kids to the sport in their teenage years, he still thinks it's vital to get the kids involved early – citing his own experience. "As soon as I finished with school (playing football and basketball) I felt golf was something I could go out and do athletically."
Turning the corner
Johnson said Lake Wisconsin Country Club had a successful summer youth program and he believes the club as a whole was finally turning the corner from the recession seven years ago – noting it was the first time in several years the club saw an increase in new memberships.
The sport has seen exciting signs of new life. A majority of the top 10 golfers on the PGA tour are young and creating a new television ratings buzz. Players like Rory Mcilroy, Jordan Spieth and Jason Day are all in their 20s and overpowering veterans such as Phil Mickelson and Tiger Woods.
While many local golf courses across Wisconsin and the rest of the country are battling to stay alive, they do have one mitigating factor on their side. As people age and realize they no longer may be able to run a 5K race or rush the net on a tennis court, golf will always remain a physically low-impact sport.
"It remains arguably the only sport you can really play until the day you keel over," Hutchens said.